By James Bennett
Fresh Rubber's motorsport history writer. 
@jabennett_

---
We all know about the famous title-deciding races: Mansell's tyre explosion in 1986, Hill and Schumacher's clash in 1994, Hamilton passing Glock to win in 2008, and various others.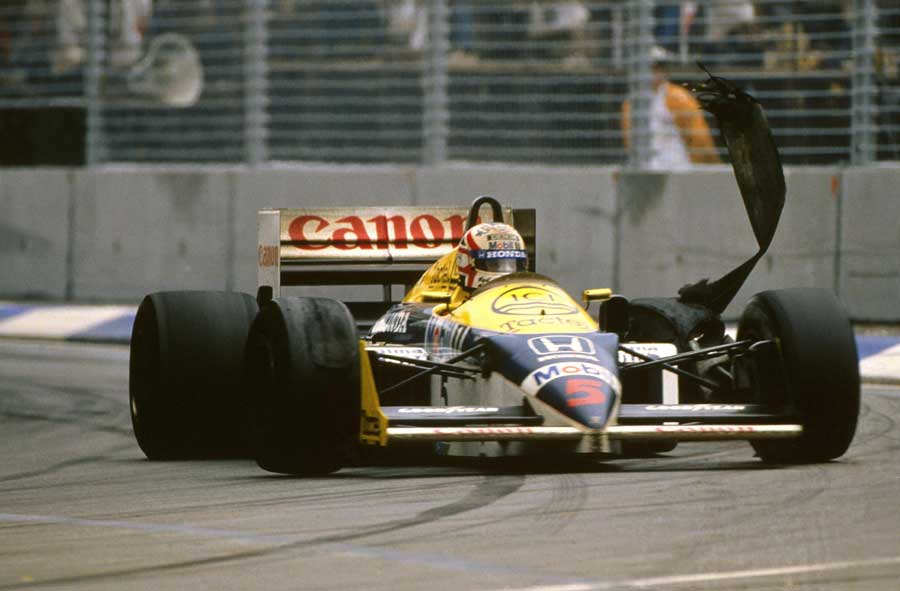 But while some live on in the memory, others get pushed into the background, and yet they all have interesting stories to tell, with lessons for Lewis Hamilton and Nico Rosberg as they head to Abu Dhabi.
---
1964: Bandini the Kingmaker.
The 1964 title decider took place at the relatively new Mexico City circuit, and saw a three-way fight between three of the finest grand prix drivers of the decade, if not of all time. The conclusion was amongst the most dramatic there has been, but no live television coverage means it's all since been largely forgotten.
Leading the way after nine of the ten races was Graham Hill. The 1962 champion, driving for BRM, had scored 41 points, but only 39 of these counted as only the best six results counted for the championship. His nearest challenger was Ferrari's John Surtees, who had finished in the points five times, giving him 34 points.
Both he and Hill had two wins, but Lotus' Jim Clark had three. The Scot, the reigning champion, was the fastest driver in the fastest car, but typical Lotus unreliability had left him on just 30 points. Despite this, a win with Hill lower than fourth and Surtees lower than second would give him a second championship on count-back.
Ferrari, racing under the banner of the North American Racing Team and with their cars painted in white and blue instead of traditional red, entered a third car for local ace Pedro Rodriguez, while Lotus did likewise for Moises Solana; but both failed to make a serious impact in qualifying, with Clark on pole, ahead of Dan Gurney of Brabham, Lorenzo Bandini of Ferrari, his team mate Surtees and Hill.
Come race day, Clark dominated, doing all he could while Hill battled with Bandini for third place and Surtees sat behind, seemingly out of contention.
It truly looked out of Surtees' hands, but on lap 31 he was thrown a lifeline when team-mate Bandini made a lunge up the inside of Hill's BRM at the Horquilla hairpin and the two collided.
Both continued, but Hill's exhaust was damaged, taking him out of the points, ending his title chances, and promoting Surtees to fourth in turn.
Suddenly it was Clark was on course for the championship, well in the lead with no threat from Gurney; but the eternally fragile Lotus had one more sting in the tail.
With a handful of laps to go, the car's Climax engine began to splutter, and it failed completely on the last lap, leaving Clark stranded and handing the race win to the American.
Ferrari frantically waved to Bandini to allow Surtees through, and the Italian, who would face heavy scrutiny for his role in the collision with Hill, duly obliged, paving the way for Surtees to cross the line second to take an unlikely first and only championship.
---
1974: Last one standing in Stewart's shadow
Ten years later, F1 would have another three-way showdown in North America; this time at Watkins Glen in New York state for the US Grand Prix.
At the same race, just a year earlier, the all-dominant Jackie Stewart had brought forward his planned retirement in tragic circumstances; withdrawing from the event  following the death in qualifying of his good friend, team-mate and heir apparent at Tyrrell, the affable François Cevert.
And so it was under this darkened cloud that Stewart's departure from the sport left a void, which throughout 1974, five drivers sought to fill.
Ferrari seemed to have the best car, with Clay Regazzoni leading the standings for much of the season courtesy of a win and four second-places and Niki Lauda, new to front-running machinery, winning two races and taking nine pole positions.
But whilst Regazzoni remained a prime contender upon arrival at the Glen, four consecutive retirements in the second half of the season had already taken Lauda out of contention.
In contrast, a third victory of the year two weeks prior in Canada had brought McLaren's Emerson Fittipaldi dead level on points with Regazzoni.
That prospect alone would have been enticing enough, but there was a third potential Champion in the running; Stewart's replacement at Tyrrell, the South African Jody Scheckter, who had taken two wins in an impressive first full season in F1 to sit seven points behind Regazzoni and Fittipaldi.
Ronnie Peterson had been a nearly man too, having taken three wins in the ageing Lotus 72 but inconsistency stopped him from mounting a serious challenge, and like Lauda, he too was out of the running.
But there would be others interfering in the championship battle at the Glen. Brabham's Carlos Reutemann, who had himself won two races during the year, took pole position ahead of the Hesketh of James Hunt, Mario Andretti in the new Parnelli and Carlos Pace in the second Brabham. Scheckter was the best-placed title contender in sixth, with Fittipaldi in eighth and Regazzoni right behind in ninth.
The race was dominated by Reutemann, who disappeared into the distance never to be caught. Hunt looked set to take second until brake trouble towards the end, handing the place to Pace to give Brabham a one-two.
In the championship battle, Scheckter was never in contention and retired 15 laps from home, and while Lauda did all he could to hold up Fittipaldi and assist the cause of the Scuderia, Regazzoni struggled with a defective damper to limp home 11th, four laps down.
The title was Emmo's, a fourth place finish enough to secure his second, and the McLaren team's maiden Championship successes.
But tragically, and in an eerie echo of events a year previous, celebrations and the Watkins Glen event were again marred  by the death of a promising driver in unacceptable circumstances; after the young Austrian Helmuth Koinigg was killed when his Surtees went off the road and through an Armco barrier early in the race.
For the Fittipaldi's – elation – for the Koinigg's, an ending amidst the harsh reality of the era.
---
1981: High stakes
The 1981 season was largely a two-way fight between an ageing veteran mounting one last charge and the sport's up-and-coming star. Carlos Reutemann, now at Williams, and Brabham's Nelson Piquet had traded the early blows: Reutemann won in Brazil, Piquet in Argentina and at Imola, and then Reutemann again at Zolder.
Amazingly, there was only one win between them after that, coming for Piquet at Hockenheim. Instead, both played the consistency game as the wins were shared between the likes of Gilles Villeneuve, John Watson and newcomer Alain Prost.
The only challenge to the lead pair came from Jacques Laffite, whose wins in Austria and Canada brought him within six points of Reutemann and five of Piquet going into the final round.
Rather appropriately, the title decider was held in Las Vegas, the gambler's paradise. However, the pathetic new circuit, cobbled together at the last minute, was bumpy and irritatingly repetitive, and the Nevada heat added a further complication.
Nonetheless, Reutemann didn't have any trouble with it in qualifying, edging team mate Alan Jones, heading for his last race before retirement, to pole position.
Piquet qualified fourth, just behind Villeneuve, while Laffite was down in 12th, needing a miracle.
But as we all know, qualifying is a very different matter from the race, and Reutemann would experience one of the greatest turn-arounds in F1 history.After a disastrous first lap which saw him drop from first to fifth, he struggled for the whole race, finishing a lap down in eighth. Instead, team mate Jones dominated the race to take his final win, the last Australian F1 victory for 18 years.
 Piquet needed a point to take the championship, and despite suffering from exhaustion, he struggled round to finish fifth, less than two seconds ahead of Laffite and Watson, to take his first title, becoming the first Brabham driver to win the drivers' crown since Denny Hulme in 1967.
---
1996: Legendary sons, legendary season.
After two seasons giving best to Michael Schumacher, Damon Hill was handed an ideal situation in 1996. With Schumacher choosing to move to Ferrari, Hill had a clear path to championship glory in a dominant Williams. There was just one obstacle: his team mate.
Jacques Villeneuve was a revelation in his first season in F1. He qualified on pole for his first race in Australia and was only denied victory by an oil leak. He won his fourth grand prix at the Nurburgring, before winning in Britain, Hungary and Portugal.
Against everyone's expectations, he took the fight to Hill all the way to the final round.Granted, Hill had lost points with an engine failure at Monaco, but he had made several poor starts and a couple of race-ending mistakes.
Despite qualifying on the front row for every race and generally outpacing Villeneuve through the season, the momentum was now against him. Psychologically, Villeneuve was winning the battle.
Heading to Suzuka, Hill led by nine points, a relatively comfortable lead, and yet there was an air of heightened tension. Villeneuve had spent a year racing in Japan in 1992, and experience must have helped; he dominated qualifying, a second ahead of everyone else until Hill vaulted himself onto the front row at the very end of the session.
The Canadian would be the favourite for the race; Hill needed a point, but there were doubts. However, it all came apart for Villeneuve at the start. The Williams had struggled off the line all year, mainly for Hill but occasionally for Jacques too, and this time it bit him.
While he was swallowed up by the field, Hill romped into the lead. Villeneuve bravely fought back, while Schumacher kept the pressure on Damon at the front, so there was still a slim chance that it might all come good, but it gradually slipped away.
Then, just after his second stop, Villeneuve's right-rear wheel came loose and fell off going into the high-speed first corner. There was no way for him to avoid sliding into the gravel trap and out of the race. Hill was thus guaranteed the championship, and he cruised round to take the victory in his final race for Williams.
---
2003: A new generation, but there's life in the old dog yet
Amongst a raft of changes in the off-season before the 2003 season was the move to hand out points to the top eight drivers, with only two points extra for a win over second place, in a bid to try and minimise Ferrari's dominance after crushing championship victories for Michael Schumacher in 2001 and 2002. In the end, this nearly made a huge difference to the title fight.
After a stuttering start, Schumacher went on a strong run of four wins in five races from San Marino through to Canada. And yet despite being peerless in these races, his lead was just three points over the young Finn Kimi Raikkonen, enjoying his best season in F1 so far. But in mid-season, Ferrari's season seemed to collapse as the Michelin-shod Williams became the car to beat, bringing Juan Pablo Montoya into the battle.
Heading to the Italian Grand Prix, Schumacher led Montoya by a point with Raikkonen a point further behind in what was now a three-horse race. However, the FIA made the controversial decision to force Michelin to modify their 'illegal' tyres, a move which still invokes conspiracy theories today.
Schumacher promptly won the race, and then followed it up with a win in mixed conditions at Indianapolis. Montoya was ruled out of the fight after being penalised for a collision with Schumacher's team mate Rubens Barrichello.
Nonetheless, Raikkonen went into the final race just nine points behind Schumacher with a slim chance of the title.What followed was a demonstration that even the man regarded by many as the best F1 driver of all-time could crack under pressure: Michael qualified down in 14th, and put in one of the scrappiest drives of his career, losing his front wing by driving into the back of Takuma Sato's BAR and putting his title under serious threat.
Raikkonen made his way from eighth on the grid up to second, but he couldn't catch Barrichello. Instead, he had to hope the Ferrari had an unlikely technical problem, and that the other couldn't recover through the field.
Unfortunately for the Finn, Rubens held on to take his second win of the season, while Schumacher recovered to finish eighth. It wasn't his most convincing drive, but Raikkonen's failure to win was enough to give Schumacher a record-breaking sixth world championship. It wouldn't be for another four years, after he had replaced the German at Ferrari, that Kimi would finally get the title he deserved.